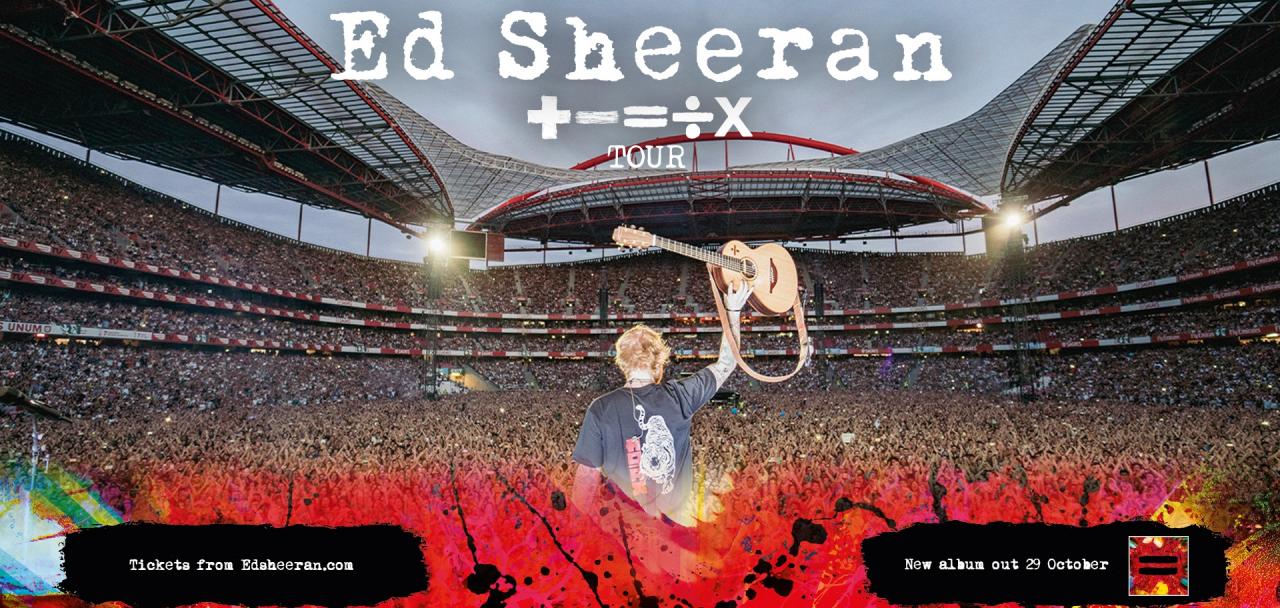 AN EXTRA CONCERT FOR ED SHEERAN DUE TO HUGE DEMAND
Published 27.9.2021
Ed Sheeran will play an additional concert at Helsinki Olympic Stadium on Sunday 21st of August 2022 due to the enormous demand. Tickets for the additional showday are now on sale at Lippu.fi, which is the only official ticket sales channel for the event. All the tickets will be named after the purchaser, and customers must create an account in advance at Lippu.fi to purchase the tickets.
Ed's upcoming '+ - = ÷ x Tour' (pronounced 'The Mathematics Tour') will see Ed return to stadiums across the Europe for the first time since his record-breaking 'Divide Tour': taking place from 2017-2019, it officially became the most-attended and highest-grossing tour, ever, by the time of its completion. On next years' dates, fans will get to see Ed perform an array of tracks off his upcoming album, '=' (pronounced 'Equal'), live for the first time, and they will also experience a new production set-up with Ed's staging in the round, surrounded by the crowd in each stadium. In Finland, Ed Sheeran last performed at Malmi Airport in July 2019 to an audience of 108,000 making the 2 shows the biggest ever concert event in Finland so far. Ed Sheeran is the first non-Finnish artist announced to play at the newly renovated, historic Helsinki Olympic Stadium.
ED SHEERAN (UK) + - = ÷ x Tour Sat 20.8.2022, Helsinki Olympic Stadium Sun 21.8.2022 Helsinki Olympic Stadium - EXTRA CONCERT
TICKETS Now on sale at lippu.fi  EUR 89.50 / EUR 99.50 / EUR 109.50 / EUR 119.50 An order fee of € 2.50 / order will be added  Lippu.fi/edsheeran Purchase limit: 6 tickets 
The tickets are sold online at www.lippu.fi/edsheeran and via Lippu.fi App.
Please note! All wheelchair spots with assistant seats are also sold online, but any other ticket types for customers who need assistance are sold via Lippu.fi Phone Customer Service only.  
Tickets can be purchased only through an account created on the official ticket sales channel, so the customers must register in advance at www.lippu.fi.
All tickets will have the lead purchaser's name on them, and the whole group will need to arrive to the venue together at the same time. The lead purchaser must present the LIPPU.Pass digital ticket, an e-mail order confirmation and an identity card (driving license, passport, official identity card) when entering the concert.
LIPPU.Pass-digital tickets can be accessed only with the Lippu.fi mobile application. Tickets will be delivered to Lippu.fi mobile application close to the event. Tickets can only be resold from fan to fan at the original purchase price on Lippu.fi fanSALE -page. The fanSALE ticket resale will open during October.